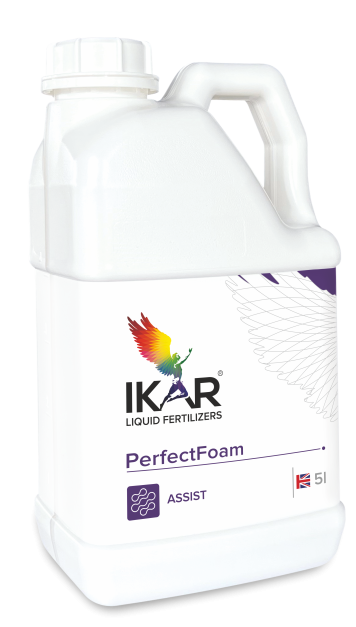 PerfectFoam
Perfect Foam is a highly effective defoamer widely used in agricultural sprayer tanks for the preparation of solutions. It easily disperses the resulting foam in the sprayer tank solutions. It is convenient to use and has a fast anti-foaming effect. It works in a wide range of pH and temperature and quickly removes foam. When filling the sprayer tank with pesticides and other surfactants, the foam is formed during filling and mixing. The abundant foaming in the nozzle is caused by the interaction of strong water jets, surfactants, and air. The foam in the sprayer causes discomfort because it takes up the capacity of the tank, reduces the filling performance of the sprayer, and thus wastes time. Using IKAR Perfect Foam at the beginning of filling the tank will reduce the formation of the foam. Perfect Foam is an innovative, advanced and eco-friendly product.
ADVENTAGES:
easily distributed in water,
quickly disperses the resulting foam in the sprayers,
reduces the risk of overfilling the sprayer.
Packaging
1l
1l
5l
5l
COMPOSITION
| | | |
| --- | --- | --- |
| | Amount % | Amount g/l |
| Active content (non-ionic siloxane) | 30,0 | 300 |
| pH (1:10 H2O) | 6,0-8,0 | |
| Density 20C, g/ml | 1,01 | |
APPLICATION
Usage rates: 2 – 4 ml/ 200 litres of water. The dose can be adjusted depending on the foaming level of the products used.
COMPATIBILITY
Perfect Foam can be used in mixtures with many fertilizers and pesticides (insecticides, fungicides).